Web Editor (Referred to as Web):
The name STAR MOTOR and SIRIO have become very famous around the world. Could you please tell us about this history?


STAR MOTOR :
From 2001, we combined the manufacturing talent of Lavorazioni Mechanic with the racing experience of G. Voghera and A. Rossi to start developing model racing engines. Our first plan was to develop racing engines for the R/C model car market and our first engine was released in June 2002 and this was also the beginning of SIRIO's racing activity. Since then we have worked with the KYOSHO team in 1/8 on-road and off-road racing categories, which has resulted in three consecutive world championship titles. This has highlighted SIRIO performance to the world and so increased SIRIO's brand profile.

Web:
So your skills in developing racing engines would have been very useful in the development of the SIRIO 09 engine.


STAR MOTOR:
Before developing the SIRIO 09, we knew that we had to understand everything about the Mini-Inferno concept and we had to be aware of user expectations of SIRIO as a racing engine maker.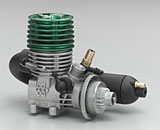 Then we visualized how the Mini-Inferno would be used and scoped out an engine project to suit the objectives. Then we structured the technical direction of the project.