The Mini-Inferno 09 arrived at my office so I took it out for a run straight away. Mishiman (that's me) is not used to GP cars. Inside the box I found a special starter box, transmitter, plug booster and fuel pump.



The body is quite small. Compared to the EP version the wheelbase is about 15mm longer, and I wondered if it would run properly. But more than that, my biggest concern was about starting the engine.



The Readyset includes everything except the following: batteries for plug heater and starter box, and fuel.



While reading the instruction manual I filled the fuel tank. After connecting the plug heater, I mounted the chassis on the special starter box and pushed down to start. Too easy! Wow!



The SIRIO 09 engine was jointly developed by KYOSHO and Star Motor of Italy. When the slide carburetor stirred the engine, the result was a sweet sound despite the compact size. The single needle made adjustment easy and produces excellent power if you don't turn it to the extreme.



I finished the break-in easily and was ready to start running! Throttle response was sharp and acceleration as expected. I thought it would be more sensitive but was pleased the car was powerful and easy to manage.



I took on a double jump built for 1/10 buggies and cleared it without any problem. I felt the wheel area might not be strong enough, but could be easily strengthened with some optional parts.
Handy size with true GP buggy performance: that summarizes what I think of the Mini-Inferno 09. The best thing about it is you can start using it almost as soon as you take it out of the box.









Also, it was much more powerful than I expected and easily cleared the double jump for 1/10 buggies.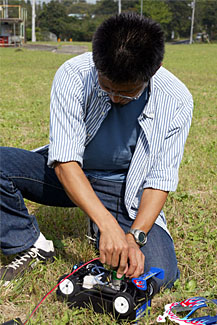 Started the engine while reading the instruction manual. Started with no problem at all, and loved the sound of the engine.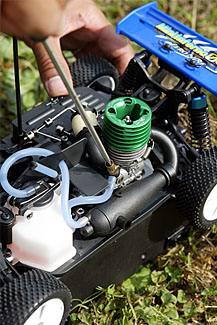 Fuel adjustment is ultra easy with a single needle. Run the fuel a little rich for a few tanks during break-in.